I grew up playing guitar in the 80s, on the East Coast in DC, and still love it just as much now, maybe more. I love gigging and I love the gear, and I love keeping the gear going. And figuring out what the problem really is before I start solving it. I figure you are parting with good money, you may as well only do it once and have it be worth it for as long a time to come as possible.
I have been a student of the guitar ever since, both as a musician and a builder/repairman, and I want to put my experience, judgement, and expertise at your service. I have been lucky enough to live, play, and work in a wide range of cities, climates, countries, and economies, and have come to learn first-hand all of the many variables that affect stringed instruments and their owners. Chicago is a good place to gain an understanding of the impact of rapid seasonal humidity changes on tonewoods, while the Bay Area is a good place to experiment with various electronic components. And West Africa is a great place to figure out what works in a pinch!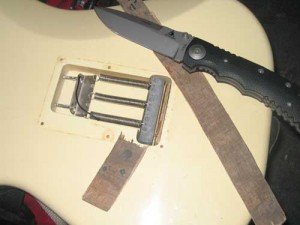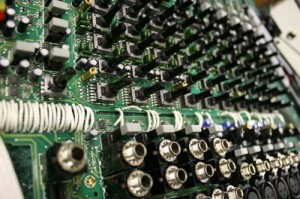 Shredders don't need what fingerstylists need, or a blues player, or a beginner. Sometimes a close adherence to manufacturer's specifications is recommended; sometimes a full-blown custom or harebrained approach is best. It all depends on you. I have a wide selection of vintage and original parts in stock, and can find any part you need for your restoration or refurbishment project. But I am also prepared to rout, modify, upgrade, and hot-rod your axe into next week, if that's what you need. There are some procedures I typically advise against, like adding a cutaway to a 1950s Gibson arch-top or installing a Kahler on your vintage Les Paul, but in most cases I can offer both traditional and unorthodox methods of achieving your dream.
Necks straightened, bridges adjusted, saddles intonated, tremolos calibrated, controls cleaned, switches replaced, fingerboards sanded, frets refretted, cracks glued, bridgeplates replaced, nuts cut and shaped, tonewoods humidified, braces reglued, circuits upgraded, binding replaced, pickups installed, pickguards made from scratch, you name it, no job too big or too small.